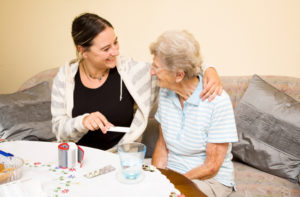 Attorney Michael K. Pence is dedicated to nursing home reform. Nursing home abuse is becoming increasingly common. Nationwide, and the number of nursing home negligence cases is increasing.
Nursing home abuse can be physical or psychological. It can also take the form of neglect. Whatever the form, abuse of nursing home residents must be stopped. The first step is recognizing the warning signs.
COMMON WARNING SIGNS OF ABUSE OR NEGLECT:
Bedsores (also called "pressure sores")
Cuts, open wounds, or frequent bruising
Personal items torn or broken
Bruises that suggest physical restraints were used
Sudden, severe weight loss
Jaundice or an abnormally pale complexion
Poor personal hygiene or strong fecal/urine odors
Fleas, lice, rodents, or other pests or parasites in the room
Other unattended health problems
If your loved one exhibits any of these warnings signs, do not assume that the situation will resolve itself or that turning a blind eye will make it go away. Protect your loved one and help protect the loved ones of others
There is no substitute for experience, familiarity, and knowledge of the ever changing Tennessee Laws and familiarity of the Tennessee and Nashville Court System. Michael K. Pence is extremely well-informed of Tennessee law and court systems that govern personal injury as it relates to nursing home abuse and makes use his knowledge, skill, and experience of the law to build solid a case on his clients' behalf. He is eager to represent those who have been harmed, specifically the elderly or people with special needs, and makes every attempt to successfully realize justice for you and/or your loved one who suffered from negligence due to nursing home abuse.