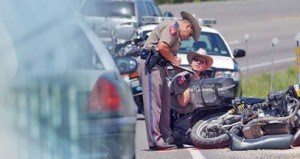 Motorcycle accidents in Tennessee tend to be more traumatic than any other auto accident.  They often involve serious injuries and can be personally and financially devastating. Despite the many stereotypes, most accidents involving motorcycles are not the Tennessee motorcyclist's fault.  More times than not, motorcycle accidents are the fault of reckless automobile drivers.
According To The Hurt Report Of Motorcycle Accidents Conducted By The USC Traffic Safety Center
Approximately 75% of motorcycle accidents involved collision with another vehicle, which was most usually a passenger vehicle
Engine failure accounted for less than 3% of motorcycle accidents
Roadway defects (pavement ridges, potholes, etc.) were the cause in 2% of the accidents; animal involvement was 1% of the accidents
In the multiple vehicle accidents, the driver of the other vehicle violated the motorcycle right-of-way and caused the accident in two-thirds of those collisions
The failure of motorists to detect and recognize motorcycles in traffic is the predominating cause of motorcycle accidents
Intersections are the most likely place for the motorcycle accident, with the other vehicle violating the motorcycle right-of-way, and often violating traffic controls
Some Tennessee personal injury attorneys are hesitant to defend the rights of injured motorcyclists because of the common misperception that motorcycles are unsafe. Many other Tennessee lawyers find motorcycle accident cases too difficult to pursue. As we have eluded to and provided a study to verify our claim, negligence on the part of another is the majority of the causes of motorcycle accidents and Michael K. Pence is a different breed of personal injury attorney. He believes in the rights of every person on the road and works to defend the rights of all Tennessee motorists.
If you have been seriously injured while riding your motorcycle, it is important to find an injury lawyer experienced in Tennessee motorcycle accident litigation. If your motorcycle accident occurred in Tennessee, then the attorney you need to represent you is Attorney Michael K. Pence.  Mr. Pence understands too often motorcycle collision injuries are life-threatening, even when a helmet is worn.
If you are a motorcyclist or have a loved one injured in a Tennessee motorcycle accident, the same Tennessee laws apply as if you were driving a car or truck. These laws clearly require that the negligent party pay for your motorcycle repairs and accident injuries, including time off of work and medical bills.
Attorney Michael K. Pence has the experience to successfully fight for your rights and get you the fair settlement you deserve.  As with all legal matters, it is imperative that the injured victim act quickly.  Mr. Pence will aggressively fight to successfully realize justice for you if you have been harmed by the negligence of another while riding your bike.  You get Attorney Michael K. Pence on your side and you can rely on him to provide you with the personal service you need to get the justice you deserve.