Since 2008, there have been several rounds of automobile airbag recalls, the most recent involving 7.8 million vehicles, more than 100 models and 10 manufacturers. The recall focuses on vehicles equipped with defective airbags made by a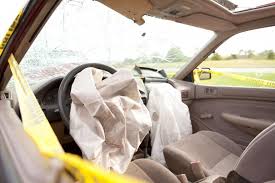 Japanese supplier, Takata.  The National Highway Traffic Safety Administration (NHTSA) urges all owners of cars listed  on the recall to get their airbags repaired immediately.
Safety advocates say at least four people have died from the problem and there have been multiple injuries. They also say more than 20 million vehicles in the U.S. are equipped with the faulty air bags. It is being reported that Takata's knowledge of the defect goes back to at least 2004 when Honda, the first manufacturer to launch a recall, received the first injury claim from an exploding "inflator" and reported it to the supplier.
The NHTSA warned people whose cars have been recalled during the past two years for faulty air bag inflators to take them to dealers right away. So far, automakers have recalled about 12 million vehicles worldwide because of the problem. "This message comes with urgency," NHTSA said in a statement in October 2014. The agency has been investigating the problem since June, and has cited reports of six inflators rupturing, causing three injuries. Toyota issues the latest recall in November, covering passenger air bags in 247,000 older model vehicles including the Lexus SC, Corolla, Matrix, Sequoia and Tundra.
Like many of the other recalls, the Toyota recall includes areas that have high absolute humidity as found in the southern United States. Toyota, in documents posted to the NHTSA website, said the company and Takata are still trying to pinpoint the cause of the rupture and to gauge the influence of high absolute humidity.
If you or a loved one has been harmed by a faulty airbag you should seek the services an experienced, competent personal injury lawyer. Contact the Michael Pence Attorney At Law to schedule a free consultation.