According to the National Highway Traffic Safety Administration (NHTSA), more than three million people are injured each year in vehicle accidents across the country. Not all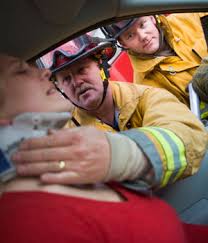 automobile accidents are the same. Depending on various factors, some people walk away unscratched from an accident as dramatic as a rollover while others are paralyzed from a low speed collision. Because of the complex nature of vehicle technology and the frailty of the human body, no injury is too little to not be examined by a doctor in the aftermath of such a crash.
Some of the more common injuries that are realized after an automobile accident include the following:
Neck And Back Injuries According to NOLO whiplash is the most common injury suffered in car accidents. It is a neck and/or back injury in which the neck stretches and quickly snaps back into place, because the impact of a wreck has caused the car to either suddenly stop or accelerate. Whiplash can damage the vertebrae, ligaments or disks, or the spinal cord itself, in the neck and back. Even less severe neck and back injuries can cause chronic pain that significantly reduces the quality of life.
Chest injuries. The crushing impact of a collision can break ribs and/or the sternum, particularly if a driver or passenger was not restrained by seat belts This severity of chest injuries has been greatly reduced by the standard placement of airbags in dashboards and steering wheels, but fractures and injuries to organs still occur.
Mild Traumatic Brain Injury (TBI) Classified as mild if loss of consciousness and/or confusion and disorientation is shorter than 30 minutes.  According to the CDC, TBI is caused by a bump, blow or jolt to the head or a penetrating head injury that disrupts the normal function of the brain. The severity of a TBI may range from "mild," i.e., a brief change in mental status or consciousness to "severe," i.e., an extended period of unconsciousness or amnesia after the injury.
Leg And Knee Injuries. Most leg and knee injuries in car accidents are impact or crush injuries caused by smashing into a part of the car. This can result in wounds that range from contusions (bruises) to a fracture or multiple fractures. Knees are also susceptible to meniscus tear (tearing of cartilage in the knee) if they are abruptly twisted or turned.
If you you have been injured from an automobile accident, it's important that you seek the services of an experienced personal injury lawyer. Contact attorney Michael Pence to schedule your consultation.