In the summertime, Tennesseans enjoy the beauty our state has to offer in many ways including boating on one of the 925 square miles of lakes and rivers for which we are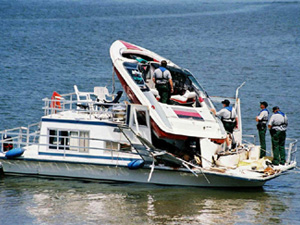 fortunate to have access.
Every year there seems to be more vessels on Tennessee's waterways. According to the Tennessee Wildlife Resource Agency there are 256,862 registered boats in Tennessee. Whether you're onboard a sailboat, motorboat, or another type of personal watercraft, the operator and passenger must be diligent and careful while enjoying themselves on the water.
With the flood of handheld technology like smartphones, many people are aware that distracted driving accidents due to texting or simply looking down at one's phone while operating a motor vehicle has become far too common causing far too many accidents resulting in injury. But often boaters don't remember the same safety rules when they take their driving off the road and onto the water.
The following is boating incident data compiled by the TWRA for 2014:
The total number of reportable incidents in 2014 was 134.
The total number of deaths was 17.
The incident rate for 2014 was 52.2 per 100,000 registered vessels.
The county that reported the most incidents was Davidson County with 14.
The monetary amount of damage resulting from boating incidents in 2014 was $1,117,929.
The most common type of boat involved in an incident was an open motorboat.
The leading type of incident was collision with another vessel.
The most common operation during an incident was cruising.
The leading primary cause of incidents was operator inattention.
Alcohol and/or drug use was a primary cause in 4.2% of incidents.
Rented or borrowed vessels were involved in 20.2% of incidents in 2014.
The most likely time to be involved in an incident was between the hours of 12pm to 4 pm on Saturday.
A major cause of boating accidents is reckless operation which can take many forms, but in general is an act that endangers others. One form of being reckless is the operator being distracted by a mobile device thereby rendering him or her unaware of other boaters, jet skiers or people in the water, posing the same danger that operating a motor vehicle while being distracted by cell or smartphone does.
Simply stated, distracted boating is as dangerous as distracted driving. Sadly, every summer people are injured or lose their life due to the recklessness of an impaired and/or distracted boat operator looking down at his or her mobile phone. If you have been injured on Tennessee waterways due to the negligence of boater you should seek the services of an experienced, competent personal injury lawyer. Contact attorney Michael Pence to schedule your consultation.