One of the most common reasons for an automobile and eighteen wheeler crash to occur is  because the driver was operating his or her vehicle while distracted. There are a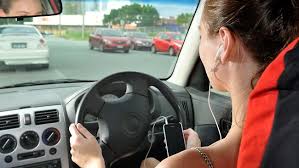 myriad of actions a driver can do that would constitute being distracted. For example, texting or talking on the phone while operating a motor vehicle is a form of distracted driving. Eating or changing the radio station are also forms of distracted driving. Reading a book or magazine, putting on makeup or combing one's hair, watching a video or talking to passengers are all forms of distracted driving.
However, an action not commonly thought of as dangerous while driving, but was recently reported on in local news is using headphones or earbuds while behind the wheel of an automobile. Some drivers use earbuds or headphones to listen to music while driving. Others use them as Bluetooth devices to talk on the phone while operating a vehicle, as it allows their concentration to remain on the roadway and not on their mobile device.
In many states the use of headphones and earbuds while driving is not prohibited. In Tennessee, there isn't a state statute making it illegal to use earphones while driving, but some cities have passed ordinances banning their use. For example, if caught wearing any head device in Bartlett, Tennessee while operating a motor vehicle, you are subject to being pulled over by law enforcement and issued a citation.
The purpose of such an ordinance adopted by Bartlett, as well as states that have made it illegal to wear headphones or earbuds while driving, is to protect people from those operating a motor vehicle who cannot hear what is going on around them due to outside noise reduction. Drivers should be able to hear the honking of other vehicles' horns in the event of an emergency as well as the siren of emergency vehicles.
The following data provided by the Virginia Tech Transportation Institute speaks to the seriousness of distracted driving:
Each day in the United States, more than 9 people are killed and more than 1,153 people are injured in crashes that are reported to involve a distracted driver, according to the Centers for Disease Control and Prevention.
Engaging in visual-manual subtasks (such as reaching for a phone, dialing and texting) associated with the use of hand-held phones and other portable devices increased the risk of getting into a crash by three times.
Five seconds is the average time your eyes are off the road while texting. When traveling at 55mph, that's enough time to cover the length of a football field blindfolded.
If you been injured as a result of another's negligence due to distracted driving, you should seek the services of an experienced personal injury lawyer. Contact attorney Michael Pence and schedule your consultation.