Since the 1930s, federal regulations have restricted the hours that a tractor trailer driver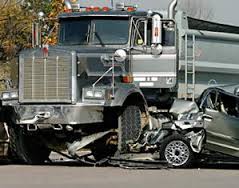 can work without rest or sleep. Today, these regulations are contained in the Federal Motor Carrier Safety Administration's hours of service rules (HOS).
Truck drivers must follow the HOS regulations if they drive a commercial motor vehicle (CMV). In general, a CMV is a vehicle that is used as part of a business and is involved in interstate commerce and fits any of these descriptions:
Weighs 10,001 pounds or more
Has a gross vehicle weight rating or gross combination weight rating of 10,001 pounds or more
Is designed or used to transport 16 or more passengers (including the driver) not for compensation
Is designed or used to transport 9 or more passengers (including the driver) for compensation
Is transporting hazardous materials in a quantity requiring placards
The purpose of the HOS rules is to prevent deadly accidents. It is common sense that a drowsy or sleepy driver constitutes a danger to everybody else on the road. Commercial truck drivers are prohibited from driving more than 11 hours or driving after having been on duty for 14 hours. There is also a weekly rule that prohibits commercial truckers from driving over 70 hours during one work week.
Unfortunately, most truck drivers are paid by the mile and not by the hour, therefore, there is a natural temptation for truck drivers to cheat these rules. In fact, the trucking industry has long resisted any regulation that restricts the time that a driver can spend behind the wheel.
All commercial drivers are required to keep a log book to document their driving history. It is very easy to falsify the information contained in a log book. Some companies have started using something called an electronic on-board recorder (EOBR) in place of a log book. An EOBR is much more difficult to falsify.
More than 30,000 people a year in America die on highways and roads in car and truck accidents. One in seven of these are accidents involving tractor trailers. No one should get behind the wheel when they are sleepy or drowsy and that includes both drivers of passenger vehicles and drivers of commercial trucks. Unfortunately, this sometimes happens and with very tragic results.
If you or a loved one was injured as the result of a tractor trailer crash where the driver was drowsy, fell asleep and swerved into your lane or ran into you from behind in stopped or stalled traffic, you should seek the services of an experienced personal injury lawyer. Contact attorney Michael Pence to schedule your consultation.