In the United States, roughly 30,000 people each year are killed in automobile accidents.  In Tennessee, just under 1,000 people succumb to their death due to a fatal car collision.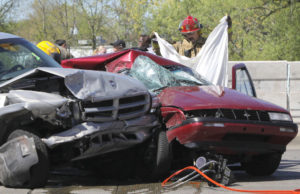 This translates to 83 people dying on a daily basis in Tennessee due to car crashes.  The next question these statistics beg is what causes so many in Tennessee as well as around the country to lose their lives to a fatal auto accident?  The National Traffic Safety Administration offered the following for fatal car collisions:
Driving Under The Influence Of Alcohol  In Tennessee, a large percentage of life threatening accidents are caused by drivers who drink, become too impaired to drive, but decide to get behind the wheel.
Impaired driving  Drivers who take prescription drugs or other types of narcotics also contribute to a large portion of fatal car accidents in Tennessee. This has actually become a very big problem. When a person gets behind the wheel on pain medication for example,  he or she is at risk for disastrous consequences.
Driving While An Advanced Senior Citizen As people get older, he or she typically has more difficulty seeing, especially at night, as well as slowed response times and weaker reflexes. It's a sad reality of life but we have all seen that driver significantly advanced in aged who clearly should not have been behind the wheel and clearly struggling to maintain control.
Distracted Driving It can't be addressed enough the danger a driver poses when he or she operated a motor vehicle while texting, eating, grooming, playing with a pet, adjusting the radio or GPS and other such carelessness in leu of watching the road.
Aggressive Driving  People who put others in harms way by excessive speeding, frequent lane changes and passing on the right are a disaster waiting to happen.
Poor Road Conditions  During the intense summer heat, potholes and other road hazards are likely to develop, causing dangerous road conditions for drivers.  Then in the winter months it's difficult at times to notice when roads have iced over especially at night.
Driver Fatigue Falling Asleep in the Wheel According to recently published data by the Minnesota Department of Transportation, driver fatigue is the cause of 2.5-3.0 percent of all interstate related fatalities in the United States.
Rubber-necking  Another type of distracted driving where drivers look other things on the road not not associated with their driving like an auto accident in the other lane.
Defective Automobile and Automobile Parts  Common auto defects that can cause severe injuries include tire defects and defective design of an SUV resulted in rollovers.
If you have a loved one who died due to the negligence of another as he or she operated a motor vehicle and you are the decedent's significant other or surviving spouse in charge of their estate, you likely have standing to file wrongful death claim. You should seek the services of an experienced wrongful death, personal injury lawyer. Contact attorney Michael Pence for your consultation.