The Chicago Tribune recently reported that data released from an Indiana State Department of Health study show that medical errors at hospitals and health care facilities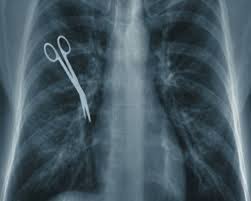 in 2014 reached a new high. There were 114 of what the agency described as "preventable adverse medical incidents" last year. The incidents include everything from surgeries performed on the wrong body part to foreign objects retained in a patient after surgery. But the problem isn't just in Indiana, although they deserve recognition taking the initiate with this study. The problem is systemic.
A shocking but common surgical error is for medical professionals to leave foreign objects like sponges, gauze, needles, and even surgical instruments and towels inside the patient after he or she has been closed up post surgery.  While commonly called "retained foreign objects," what doctors are alluding to are forgotten or inexcusably abandoned foreign objects.  Thousands of patients are injured every year across the United States due to retained objects from surgery.
Foreign objects left in the body can lead to life threatening infections, bowel perforations, organ damage, severe pain, and even death. In the best case, the patient is subjected to the physical and emotional tolls of further surgery to repair the botched procedure, the risks of anesthesia, hospitalizations, unsightly scars, and medical expenses.
These cases require a thorough understanding of operating room procedures and the various roles of the surgeons and surgical nurses. Procedures like there should always be a count prior to surgery of all sponges, needles, and other surgical instruments that will be placed inside the patient's body during surgery. The initial count serves as a baseline for subsequent counts. The scrub and/or circulating nurse should audibly count each item before surgery, whenever more sponges or instruments are added to the surgical field, before closing any body cavity, and before completion of the surgical procedure. The nursing staff should document each count.
Typically, the operating room nurses are responsible for maintaining an accurate count of the sponges and instruments. However, the surgeon should inquire of the nurses whether the counts are correct. If they are not correct, the surgical wound should not be closed until a correct count is verified. If necessary an intra-operative x-ray can be taken to locate the unaccounted foreign bodies left inside the patient.
Surgery resulting in retained foreign objects is one of the most sloppy and unprofessional forms of medical malpractice. It's almost unconscionable, and certainly worthy of compensation for pain and suffering. If you were a victim of retained foreign objects after a surgical procedure, you should seek the services of an experienced personal injury lawyer. Contact attorney Michael Pence for your consultation.