With Spring here and summer fast approaching Nashville's bustling downtown tourism industry in full swing. The city continues to experience a boom of entrepreneurial progress in new downtown housing, eateries, nightlife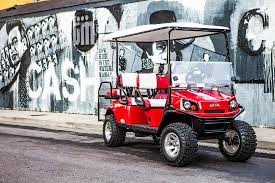 venues and in a the niche industry of inventive transportation.  At first glance while driving down 2nd avenue, broadway, Division etc it appears that anyone with a golf cart can attach a sign on the back and start picking up and dropping off tourists for hire.  Though the views are often better, the fares are lower for short distances and the sense of adventure is stronger than it is with a taxi, all of those things may come at a higher price if tourists and Nashville motorists alike aren't careful.
By definition, any four-wheeled electric or gasoline-powered vehicles, excluding golf carts, with a top speed of approximately thirty-five miles per hour are considered low-speed vehicles (LSV).  These vehicles are not permitted on streets with greater speed limits than thirty-five miles an hour and may not exceed a speed of thirty mph. LSV services in Downtown Nashville and surrounding neighborhoods have been largely unregulated since they've emerged within the last few years. That is until this past January when the Metro Council passed an ordinance effecting low speed vehicle services requiring them to follow stricter guidelines on Nashville roads. These new regulations require driver background checks, yearly inspections, a lower max speed, personal injury and liability insurance, ban any passenger alcoholic beverages from the vehicle, require one seat belt per passenger and call for a clearly displayed fare charge card in the window.
The valid concern that some of the shady, overnight created LSV services not adhering to basic safety measures for their passengers, pedestrians, motorists and cyclists by using unauthorized streets, bike lanes and letting passengers ride without seat belts will likely continue be a problem as we get into the heart of the summer and CMA Music Festival. However, law enforcement now will have regulations in place to use visa vis the Council's passed ordinance to better them police these new Nashville ride services.
Though these vehicles are intended to be fun downtown joy-rides, they can cause a serious accident. Under a high impact collision, passengers have a high probability of being fatally injured due to the little protection that these low-speed vehicles generally offer. They also can be a major hindrance for downtown motorists simply trying to get to work, again resulting in collision and injury. If you or a loved one has been injured as a result of Nashville's new low-speed vehicles being reckless and/or not obeying the law or any other manner of automobile accident, you should seek the services of an experienced personal injury lawyer. Contact Michael Pence Attorney At Law to schedule a free consultation.