It doesn't seem too long ago that Tennessee drivers had much fewer distractions vying for their attention while driving an automobile. But the age in which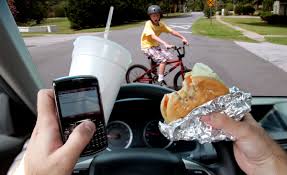 we now live, new and more interactive technologies tempt people's attention, making them more focused on their devices and less focused on the road ahead. And I used the word devices (plural) because at this point I think we have all seen that person looking at gps or a tablet and texting and eating while driving.
According to David Hosansky, author of CG Researcher: Distracted Driving,  a person taking his or her eyes off the road for 4.6 seconds – the average time of sending or receiving a text message – while driving 55 mph is the equivalent of traveling the entire length of a football field blind. Hosansky's report goes on to assert that talking on a cellphone while driving is far more distracting than talking with an adult passenger because it consumes additional cognitive resources, including creating a mental picture of the person on the other end of the conversation. Although some people may think they can safely talk and drive, researchers who observe people in driving simulators as well as in actual cars on the road find that a cellphone conversation will invariably intrude on a driver's attentiveness.
Although Tennessee has implemented laws banning texting and driving, the number of auto accidents caused by distracted driving continues to soar. In 2014, nearly 2,500 people were killed by distracted drivers in Davidson County alone.
The activities we tend to attribute distracted driving to include the following:
Texting
Using a cell phone, smartphone, or tablet
Using a GPS
Watching a video
Adjusting radio, IPod, or CD player
But technology is not the only source of blame when it comes to distracted driving. Eating, drinking, grooming, talking to passengers, and reading maps are also common culprits in auto accidents.
In the fast paced culture for which we live where more is expected of us, and our devices having become an integral part of our lives both professionally and privately, it's not hard to see how this dynamic is a recipe for disaster as it relates to operating a motor vehicle in Tennessee or any other state in America.
If you have been injured by a distracted driver, you deserve an experienced, competent attorney who will fight to make sure you obtain the compensation you deserve as a result of you getting hurt. Contact attorney Michael Pence to schedule your free consultation.