As the motorcycle season warms up, every year in May the National Highway Traffic Safety Administration brings awareness to motorists that they will be seeing more two wheeled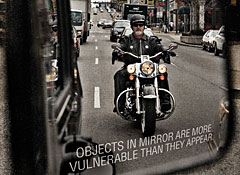 vehicles on the roadways. During Motorcycle Safety Awareness Month all motorists are  reminded to safely share the road with motorcycles, and to be extra alert to help keep motorcyclists safe. Motorcyclists are reminded to make themselves visible to other motorists in an effort to stay accident free during the riding season.
According to the NHTSA, 80 percent of motorcycle accidents result in injury or death. This figure is much lower for automobile accidents (only 20%), underscoring the reality that riders face significantly more risk when involved in a crash.
Also per the NHTSA, in 2014, there were 4,668 motorcyclists killed in motor vehicle traffic crashes in the United States, a decrease of 6 percent from the 4,986 motorcyclists killed in 2013. There were an estimated 88,000 motorcyclists injured during 2014, a 5 percent decrease from 93,000 motorcyclist injured in 2013. So, these numbers flesh out motorcycle operators safety is trending in the right direction.
Safe riding practices and cooperation from all road users will help reduce the number of fatalities and injuries on Tennessee highways. No matter what vehicle you're operating, driver awareness is essential to making our roadways safer for everyone. For those road users who prefer four wheels, here are some tips provided by the Governors Highway Safety Association to keep in mind that may help avoid accidents involving motorcycle riders:
Never drive while distracted. Doing so can result in tragic consequences for everyone on the road, including motorcyclists.
Share the road. A motorcyclist has the same rights, privileges, and responsibilities as any other motorist on the roadway. Vehicle size is NOT a factor!
Allow motorcyclists a full lane width. Do not attempt to share the lane: a motorcyclist needs room to maneuver safely.
Because of the smaller size, drivers can also misjudge how close a motorcycle is, and how fast it is going. This is especially true at intersections.
Know your blind spots! Perform a visual check for motorcycles by checking mirrors and blind spots at intersections and before entering or exiting a lane of traffic.
Never tailgate. In dry conditions, motorcycles can stop much more quickly than cars.
Don't be fooled by a flashing turn signal on a motorcycle—it may not be self-canceling and the motorcyclist may have forgotten to turn it off. Wait to be sure of the rider's intentions before you proceed.
If you someone you love has been injured due to the negligence of another while he or she was operating a motorcycle, you should seek the services of an experienced, competent personal injury lawyer who is also a rider. Contact attorney Michael Pence to schedule your consultation.