Robert Carradine comes from a family of actors, and made his first appearances on television as a kid on various western shows such as Bonanza as well as his older brother David's TV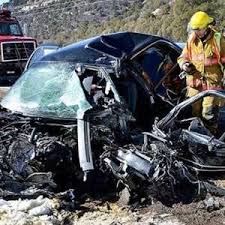 series Kung Fu. Carradine's first film role was in the 1972 film The Cowboys, which starred John Wayne. But Carradine is probably best known for portraying Lambda Lambda Lambda fraternity president "Lewis Skolnick" in the 1980s hit comedy Revenge of the Nerds.
Unfortunately, Carradine's recent media coverage has nothing to do with his acting career. Instead, the news Carradine made late April and the first part of May had to do with Robert and his wife being badly hurt in a gruesome automobile accident.
USA Today reported the Carradines were traveling northbound along a rural Colorado highway when Robert veered into oncoming traffic. Not long after shifting into the wrong lane, Carradine's vehicle crashed into a southbound semi. Both Carradine and his wife were wearing seatbelts at the time of the accident, which is why they survived the accident at all, according to a spokesperson from the hospital to which they were rushed for treatment in the accident's aftermath.
Rural two-lane roads present major head-on collision risks and Tennessee is full of them.
Sadly, the Carradines are not alone, with literally tens of thousands of Americans involved in head-on collisions every year. According to statistics compiled by the American Association of State Highway and Transportation Officials, seventy-five percent or more of head-on collisions occur on rural, undivided two-lane roads. While Carradine's accident took place during daytime hours, many head-on collisions occur in the dark, when visibility is reduced and it becomes more difficult to gauge the distance of oncoming vehicles.
Among the leading causes of head-on collisions is distraction, which can cause drivers to veer unexpectedly and overcorrect into oncoming traffic. Another major cause of head-on collision is drowsy driving. Surprisingly, passing cars at inappropriate times is responsible for only a small number of head-on collisions.
A best practice when traveling on the many rural roads in Tennessee is to stay alert and keep your eyes on the road. But sometimes even that isn't enough when, at that unexpected split second, an oncoming car veers into your lane causing major injury or worse — loss of life. If you have been injured by negligence of another motorist veering into your lane for in any other type of auto accident you need to seek the services of an experienced personal injury lawyer. Contact attorney Michael Pence to schedule a free consultation.