On Tuesday it was announced that Takata is doubling the size of its already massive recall for faulty airbags it manufacturers, making it the largest auto recall in U.S. history. This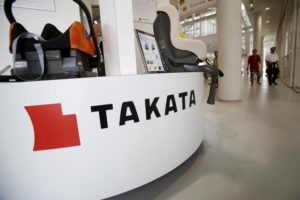 move will bring that number up 34 million automobiles recalled due to dangerous, faulty airbags.That is nearly one out of every six cars on U.S. roads today.
These faulty airbags have exploded and sent shrapnel into the face and body of both the driver and front seat passenger. Victims from this faulty explosion appeared to have been shot or stabbed, according to police who responded to the accidents. While there is at least one case of an airbag exploding when a car was simply stopped at an intersection, in most cases it exploded after an accident. Six deaths and more than 100 injuries have been linked to this product negligence.
It's not yet known what is causing theses Takata airbags to explode, admitted Mark Rosekind, the administrator of the National Highway Traffic Safety Administration.
"When are we going to find out? We don't know. But we can't wait and risk the safety of the American people before we move forward," Rosekind was quoted in a statement to the press. The NHTSA Administrator could not even definitively say whether the airbags being installed in the recall cars are totally safe.
Auto owners can check to see if their car is included in the recall by going to this website created by the NHTSA and entering their VIN, but it's being reported that it could take some time to have all the recalled vehicles show up in that database. The effected manufacturers include the following: Toyota, Honda, Mazda, BMW, Nissan, Mitsubishi, Subaru,Chrysler, Ford and General Motors. On Friday Reuters posted a more detailed, comprehensive breakdown of the recalled airbags by vehicle model.
Attorney Michael Pence has successfully represented people injured in automobile accidents due to negligence of another for many years. He can get the justice you deserve if you have been injured by an unsafe car due to components of that car being defective, obtaining significant recoveries for his clients. If you have been injured by a faulty airbag or for any other reason related to an automobile accident, contact Michael Pence to schedule a consultation.